Hello! Welcome to The Good Things, my weekly post celebrating the things that bring happiness.
Happiness means different things to everyone. Whether that's climbing a mountain, baking a cake, spending time with family, travelling somewhere exciting, a gardening or environmental success, visiting a new restaurant, a great outfit post, or your experiences of learning something new, The Good Things is a linky for everyone.
For me, happiness is found in the everyday things. It's about taking notice of the small things and practising gratitude for the life that I have.  So, I will join in by writing about something that's made me happy each week; My Good Thing…
My Good Thing #1: Running in Temple Newsam. 
When I wrote my post on how to keep motivated to exercise, one of the points I raised was about finding those places and spaces that make you happy to spend time exercising. Temple Newsam House in east Leeds is one such place for me. This week, the weather was so amazing that I stopped to take a few photos. Plus, it was an excellent excuse to catch my breath!
Temple Newsam has so many footpaths and bridle paths running through the estate that it's easy to find running routes, either on tarmac or off it. I tend to run around the hillier sections at the back of the estate–there are a couple of 'marker' hills for me that I tend to use as measure of how fit I am feeling! It's also got a ParkRun and is the location for several active events through the year such as a Race for Life.
It's such a beautiful place to run that it lifts my spirits even when I'm feeling like I really don't want to exercise. Can't say the same thing for a treadmill!
Join in. 
Now it's over to you!
This linky is a place for all your happy posts, old or new.
Simply click on the blue button at the bottom and add your post. Grab the code below for the button to add to your own blog post to show you've joined in. You need to put this into your 'text' or HTML version of your post. It's a no-follow link so won't upset Google!
Please take some time to have a look at other people's posts too, before and after your own link, leaving comments and sharing the blog love…
It would be great if you could share the linky on Twitter too, using #thegoodthings
I'm looking forward to reading your posts!
See you next week for more of the same…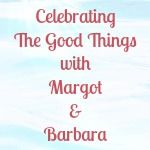 Loading InLinkz ...